Google My Business Optimization
We believe that Google Plus, which was formally called Google Places, Google Maps or Google Local Business Center, is the best way for local businesses to get more traffic to their website in the shortest amount of time. Google Places was introduced April 20, 2010 because Google knows that millions of people use Google every day to find places in the real world. This is a way for local businesses to manage their presence on Google. The problem is that 99% of the businesses out there don't know how to manage their Google Places page, and Google is notorious for not giving detailed instructions on how to rank well with their search engine.
Here's an example search result in Google My Business for "concrete contractors OKC":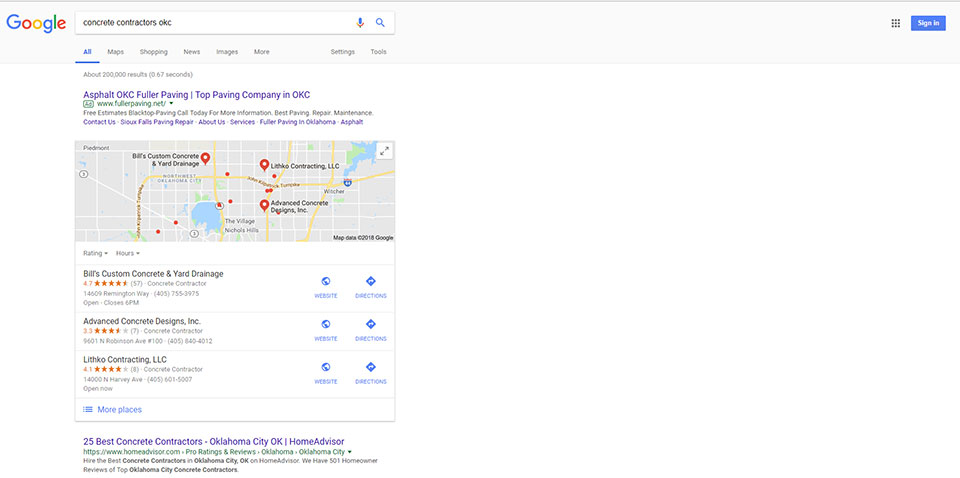 Google My Business is the fastest and least expensive way to get targeted visitors to your website, and we at Marketing Online OKC are experts at getting your business to the "A" position.  To learn more about Google My Business optimization and how we can get your business more leads and more income click here.
Web Site Design
Your website is your potential customer's first impression of your business. In the past websites were difficult to design and build and they could be intimidating to the average person without knowledge of HTML, CSS, FTP, etc… Today, not only have websites improved, but they are also much easier to build, maintain, and add new content. We believe the best platform to build a website for any business is through the platform of WordPress.
While WordPress is very easy to learn to use, there is still a small learning curve if you have never built a website. Some of the great features of WordPress are that it is a "open source" platform, it is easy to edit without knowing HTML, they have beautiful themes that are easy to modify, and they are very search engine friendly.
Click Here to learn more about WordPress and to see some of the websites that we have designed for our clients using the WordPress platform.
Search Engine Optimization
Search engine optimization (SEO) is the process of improving the volume or quality of traffic to a web site from search engines via "natural" or un-paid "organic" search results as opposed to search engine marketing (SEM) which deals with paid inclusion, or what is referred to as Pay Per Click (PPC). Natural or organic results are similar to Google Places listings, however there are many more keyword phrases that can be optimized for SEO. There are literally millions of combinations of keyword phrases available. Traditional SEO work is very beneficial, although it does take longer to see results with this form of marketing online. Click here to learn more about our SEO services.
Mobile Marketing / SMS Text Marketing
With more and more consumers using 'Smart Phones' the trend is that the lines between the Internet and Mobile Phones is definitely being blurred. In fact, many smart phones are in fact mini computers and consumers are using these devises to find local businesses. Savvy local businesses are using new and innovative services that involve the mobile phone to not only market to their customers, but also to remind them of appointments, and deliver special coupons and savings that lead to more traffic to their business.